‧͙⁺˚・༓ Name: Fae
‧͙⁺˚・༓ Race: Miqo'te
‧͙⁺˚・༓ Age: 26
‧͙⁺˚・༓ Gender: Female
‧͙⁺˚・༓ Orientation: Bisexual
‧͙⁺˚・༓ Occupation: Flower Shop Owner
‧͙⁺˚・༓ Likes: Jokes, good conversation, green tea.
‧͙⁺˚・༓ Dislikes: Liars, frogs, wearing the colour red.
‧͙⁺˚・༓ Bio: Fae was raised in the Black Shroud where she spent most of her life growing up learning to dance and sing. As she got older, she decided to join the archers guild where she learned how to defend herself. Venturing out into the world on her own, she learned how to incorporate blades into her dancing skills in La Noscea; and as she traveled over Eorzea, she learned to heal people with her astrologian skills from the coldest parts of Coerthas. Nowadays, she has a small flower shop that she runs out of her apartment. Her dream is to have a large place where she can sell her flowers.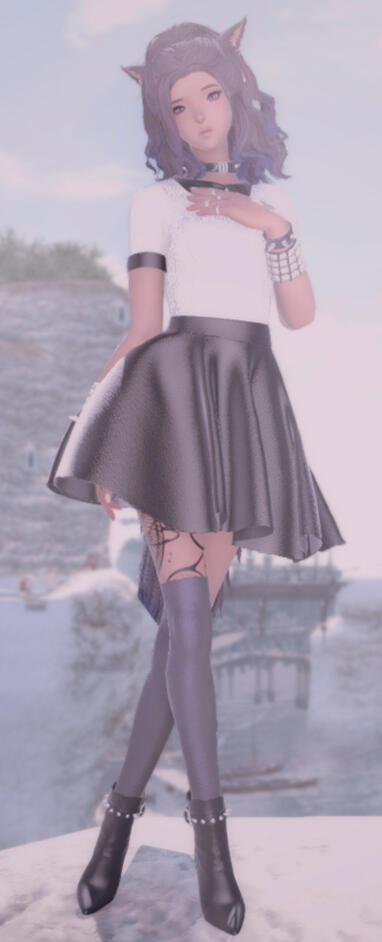 Tuesdays and Friday nights, from 7pm to 1am, she can be found here at The Wanderer's Okiya.Our Goal is to provide an authentic and immersive Okiya experience. An Okiya is a traditional Japanese Geisha house where patrons come to enjoy tea, sake, music, and comfort, all provided by the Geisha and Maiko of the establishment. We are not a nightclub, not a rave, but a place for those seeking the comfort of another while immersed in the traditional experience.
‧͙⁺˚・༓ Color: Pink
‧͙⁺˚・༓ Salty Snack: French Fries
‧͙⁺˚・༓ Candy: Dove Chocolate
‧͙⁺˚・༓ Venti Pumpkin Spice frappuccino with two pumps of mocha, java chips, & no whip.
‧͙⁺˚・༓ Flower: Lotus
‧͙⁺˚・༓ Holiday: Christmas
‧͙⁺˚・༓ Movies: Scott Pilgrim Vs The World, Life of Pi, Harry Potter & the Goblet of Fire
‧͙⁺˚・༓ Video Game: Sims 4, FFXIV, Stardew Valley, Overwatch, Any Rusty Lake Game
‧͙⁺˚・༓ Season: Fall
‧͙⁺˚・༓ Nail Color: Black and blue ombre